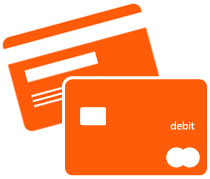 Your Stockgrowers Debit Card gives you a faster, more economical and much safer way to buy the products and services you need. You can use your card anywhere MasterCard debit card is accepted.
Fast and One-step Easy
Safeguarded if Lost or Stolen

Open the Mobile App to block your debit card should it be lost or stolen. Then unblock your card when you find it!

Worry-free Travel
All the Advantages of an ATM card
Economical and Ecological
If your debit card has been lost or stolen, please contact us as soon as possible.
Normal business hours call us at any location.
Maple Hill 785-256-4241
Paxico 785-636-5288
Alma 785-765-3311
Outside normal business hours you should report it to 1-877-226-2351 toll-free.
Get your new debit card printed TODAY!
Yep, that's right! Debit Cards are printed in the bank right when you open your checking account. No need to wait for a card and PIN to arrive in the mail. If you lose your card, you can come in and pick up a new one!*
Consumer Designs

Business Designs