Stockgrowers State Bank has been serving Wabaunsee county and the surrounding community since 1906. Banking throughout the county has such a rich history, enjoy a look back through Stockgrowers' history which shows genuine commitment to community and customers.
---
Maple Hill
Stockgrowers State Bank was the second bank formed in the city of Maple Hill and is a direct result of the first bank that was formed. The Maple Hill State Bank was opened in December of 1904 on the northwest corner of third and main streets. In 1906, 28 local investors, including several directors and investors of the Maple Hill State Bank, decided to open another bank due to their disapproval of some of the management practices of the Maple Hill State Bank. One newspaper article stated about the new Stockgrowers State Bank, "This bank will be one of the strongest country banking institutions in the state, as it is backed by men of unlimited capital and of wide and successful business experience."
Organized in September of 1906, chartered October 3, 1906, and examined for the first time by the state banking commission on October 15, 1906, the actual opening date of Stockgrowers State Bank can not be found in any records that were examined. Local newspaper columns from that time period state that it opened the "2nd or 3rd week of October". The state banking commissioner's office said at that time a bank had to be examined before they could open for business. They also said it was not uncommon for a state bank examiner to arrive in town in the morning to examine a bank, and it would open for business that very afternoon.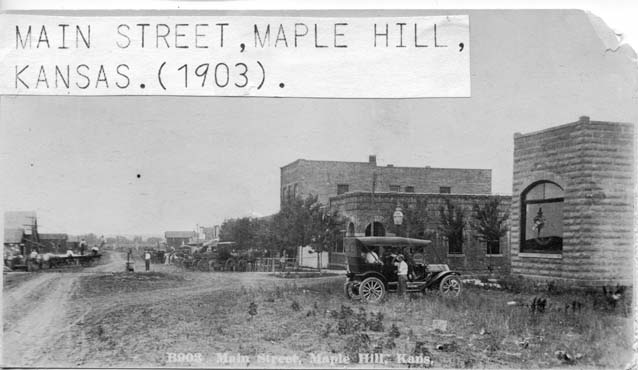 Stockgrowers originally opened for business in the "Isham building" which is believed to have been located on Main Street in Maple Hill, with plans to build a new stone or brick building in the future. The original officers were Franklin Adams, president; J.N. Dolley, vice president; and JD Weaver, cashier. One feature of the by-laws adopted by Stockgrowers State Bank was that "the president, vice president, or cashiers will not be allowed to borrow the bank's funds under any conditions". One can only guess that might have been one of the management practices of the Maple Hill State Bank the 28 organizers of Stockgrowers State Bank were not happy about. In October of 1908 the bank building on the southwest corner of 3rd and main was completed and still is the current location to this day. The Maple Hill State Bank consolidated with Stockgrowers State Bank on December 31, 1909.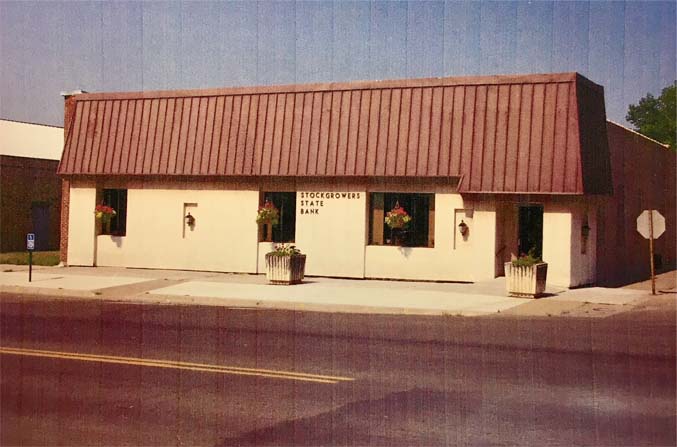 Paxico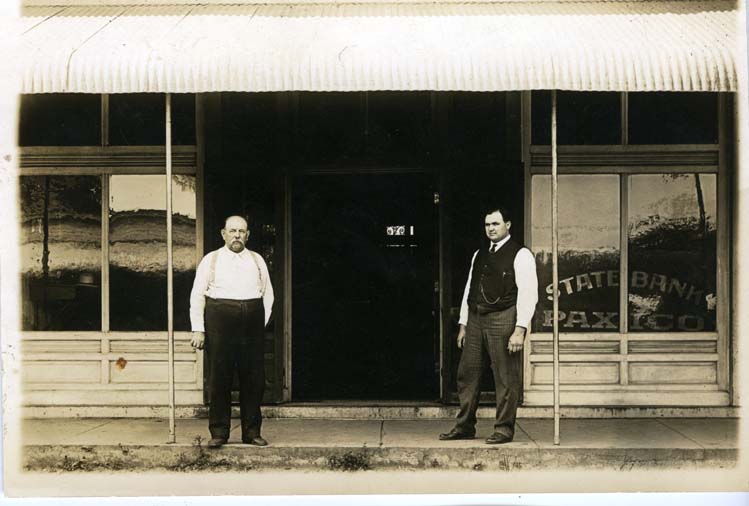 The Stockgrowers State Bank board decided to open a branch bank in Paxico in April of 1989. This was a big change since the town of Paxico had been without a bank since 1931. The Paxico branch bank moved into their current building at 306 Main Street in December of 1999.
Alma
A few years later in 2002, Stockgrowers State Bank purchased the Gold Banc branch in Alma. This doubled the deposits and the number of loans for Stockgrowers. With the addition of the Alma branch, it gave Stockgrowers customers three bank locations to visit and also provided additional banking services for all customers.
The banking history in Alma takes us further back in time as Alma State Bank began in 1884 and occupied the Palenske merchandise store. L. Palenske was cashier, and Alma State Bank advertised as the only incorporated bank in Wabaunsee County.
A few years later in 1887, the Bank of Wabaunsee County was started, but failed shortly after in 1889. It was located in the Kinnie and Kearns Bldg. 309 Missouri Avenue. During that same time in 1888 J.F. Limerick and Co. Bankers began and changed the name to The First National Bank of Alma according to an article in the " Wabaunsee County News" dated December 6th. In 1890, J.F. Limerick, President; L.T. Whalley, cashier; and Directors L. Pauly, Fred Crafts, and W.S. Thompson suspended business.
In 1889 Alma National Bank was organized. The bank included: Fred Reuter, President; Otto Hess, Vice President; O.T. Deans, Cashier; L.J. McCrumb, Asst. Cashier; and Directors J.L. Schepp, C. Tomson, C.J. Glotzbach, and C. G. Willig. They eventually purchased the assets of the Alma State Bank and used the building at 309 Missouri Ave. formerly belonging to the Bank of Wabaunsee County.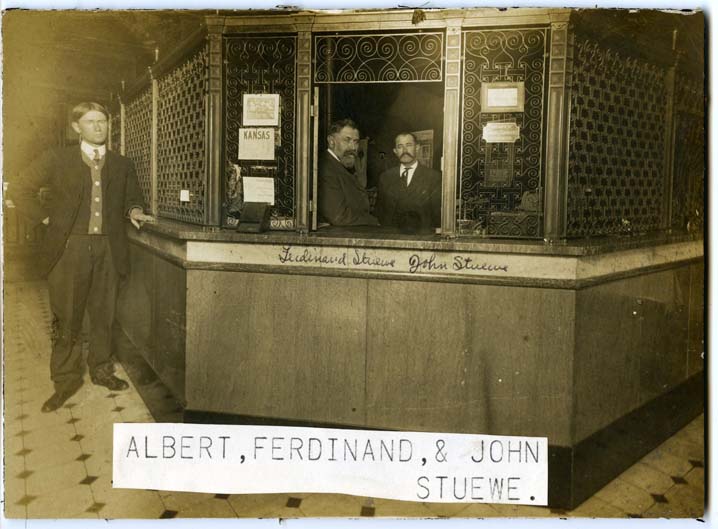 In 1895 the Bank of Alma was opened and ran by F. Stuewe, President and J.H. Stuewe, Cashier. The Bank of Alma was located at 326 Missouri Ave. where city offices are today.
In 1896 the Alma State Bank Directors included F. Lutz, F.C. Simon, Geo. Sutherland, Fred Reuter, Wm. Maas, W. D. Deans, L.J. McCrumb, J.R. Henderson, and L. Palenske. But in 1898 on January 3rd, The Alma National Bank bought out the Alma State Bank. The new management included President L.J. McCrumb, Vice President Fred Lutz, L. Palenske Cashier, and the Directors were Charles Ross, John Willig, C.J. Glotzbach, J.B. Cassity, Fred Reuter, and George Sutherland.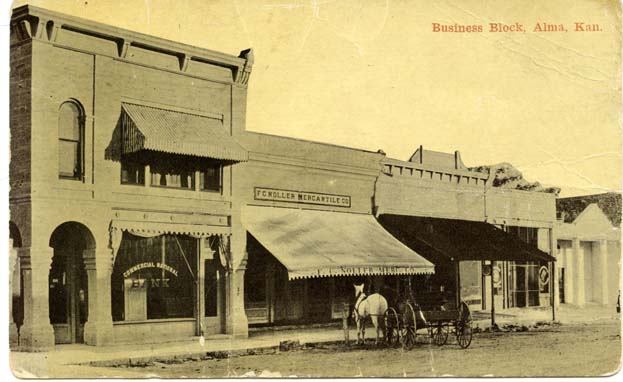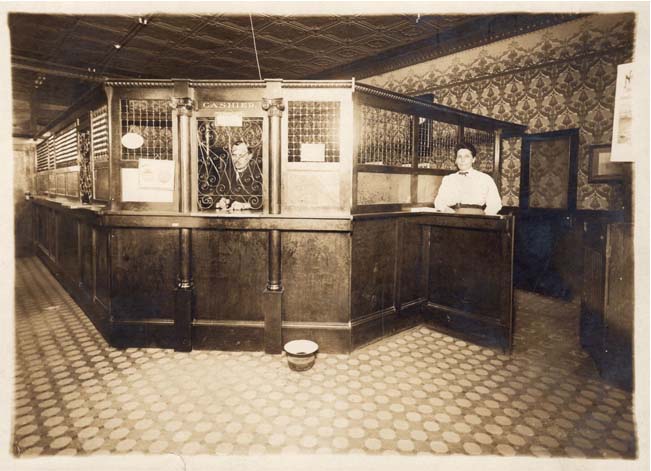 In 1905 Commercial National Bank of Alma was started in what is known as Palenske Hall. The bank officers included J.N. Dolley as President, Geo Casey as V.P, and L. Palenske as Cashier. The Directors were H.C. Gittings, F.J. Frey, G.H. Meier, Fred Steinmeyer, A.W. Maas, and Jos. Lafontaine. Later, Commercial National Bank of Alma became Farmers National Bank.
1906 was a big year for community banks in Wabaunsee County, as it was the same year Stockgrowers State Bank formed in Maple Hill, it was also the same year Alma National Bank was formed. The President was Fred Reuter and J.R. Henderson was Cashier. In 1909 O.J. Hess came aboard as Vice President.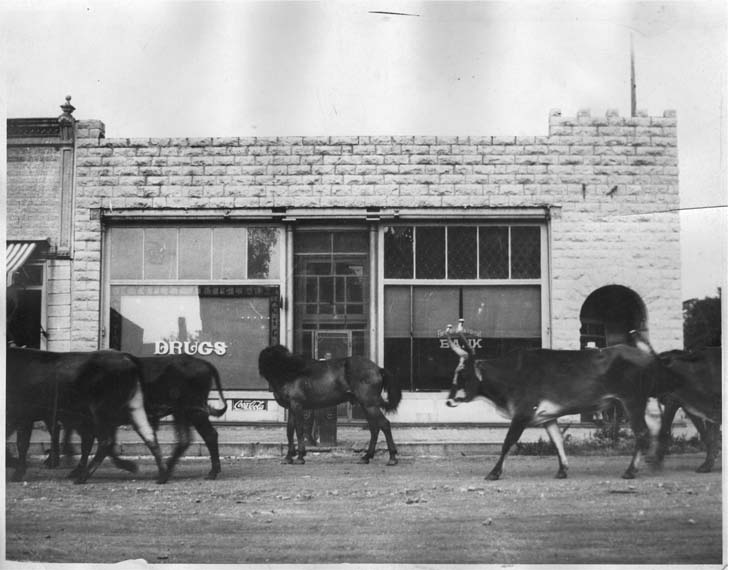 Farmers National Bank was organized in 1912 at 227 Missouri St. where the historical museum is today. President was E.E. Ames, E.H. Womer was V.P., and B.V. Curry was Cashier. The Directors were J.R.Burrow, J.A. Stienmeyer, G.T. Johnson, E.G. Breymeyer, F.J. Wagner, and W.G. Weaver.
In 1932 First National Bank in Alma was chartered as a consolidation of the Alma National Bank, Farmers National Bank, and the Bank of Alma. Bank officers included Otto Hess, Dr. F. J. Wagner, O.F. Deans, Max Mock, and A.F. Stuewe. Directors – F. Stuewe, O.f. Deans, A.H. Dieball, O.J. Hess, O.W. Hess, M.F. Mock, G.A. Mueller, A.E. Stuewe, J.H. Stuewe, F. J. Wagoner, and William Wolgast.
In 1956 First National Bank moved to 304 Missouri St., the present location of Stockgrowers State Bank. In 1957 the Officers were W.D. Moore President, John Dittman Vice President, Harold Schmitz Cashier, and M.L. Herren Assistant Cashier.
In the 1980s the bank changed hands a number of times. In 1980 it was sold to Jack and Mary Rowson, in 1982 it was sold to Dr. C.E. Kavanaugh, and in 1988 was purchased by four local businessmen, including Bill Baldock, Marvin Hendricks, Melvin Herren, and Paul Miller. They retained their ownership until 1998 when the Bank merged with Gold Banc., Inc. a holding company from Leawood, KS.
The Gold Banc branch was purchased by Stockgrowers State Bank in 2002 and became its third branch located at its present location.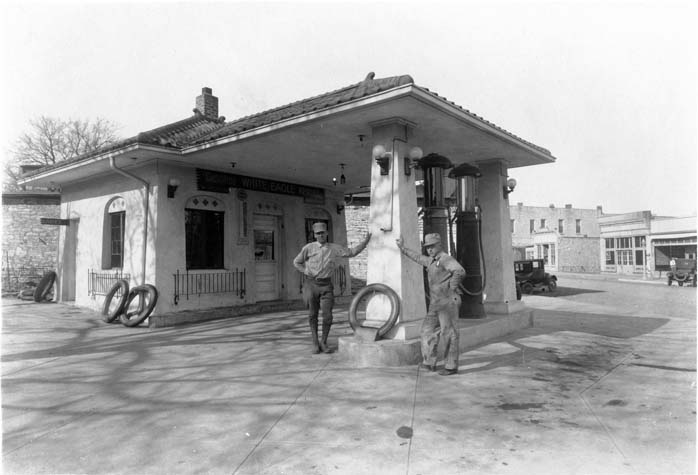 In 2017 Stockgrowers State Bank purchased the building at 3rd and Missouri in Alma known as Chunkys. The building used to be a White Eagle Gas Station and over the years has operated a few different businesses including a gas station, ice cream parlor, and even a burger stand. After the site had sat for a few years unused, Stockgrowers decided to put the space to use and install a drive-thru ATM. The building was slightly restored to honer its former glory.
Over the years there have been numerous changes in the financial industry. As counter checks are a thing of the past, new advances in technology allow for services such as online and mobile banking to exist. In 1906, who would have guessed that it would be possible to make a check deposit from a phone? Because of so many great families and people in our communities, Stockgrowers State Bank continues to thrive and serve Northeast Kansas.
A special thanks to Paul M. Miller and Dick Poovey for the preparation and research of this information. A thank you to the Wabaunsee County Historical Society & Museum for the pictures.